The Primaned Academy is open for registration!
Yes indeed, you can keep expanding your knowledge in the field of Project Controls in times of Corona. In fact, it might be even easier for you to invest time in education in case Corona created some gaps in your agenda. Of course we took all the measures necessary to avoid spreading the disease:
Measures until June 1st:
All training modules will be organised remotely. So also our Microsoft Project and Primavera P6 Professional trainings will take place with remote learning. We took the following measures to provide the same quality as with our usual classroom method:
The training material is sent to the participants before the training (so you receive a physical book instead of a PDF);
We use a professional conference system to make sure you clearly see and hear the teacher. The participants will also see the teacher's screen and the other participants to keep the meeting interactive and personal.
The maximum number of participants has been reduced to ensure sufficient personal attention;
The course is divided into two blocks of 3 hours each training day. There will be enough breaks to be able to keep focused and concentrated during the training.
Participants will receive a simple login procedure that allows you to login to both the video conference call and scheduling tooling without the need for installation;
The participants receive a digital certificate after the course.
Measures from June 1st:
If possible the Primaned Academy will switch back to classroom training from June 1st.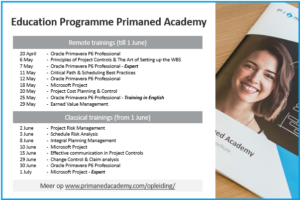 So if you have a preference for classroom training you should register for the training modules that are scheduled after June 1st.
We will contact the participants timely if the situation changes. The participants will have the choice of switching to a remote training or postponing the training to a later moment, free of charge.