Project Calendars over Global Calendars
Primavera P6 is designed as an Enterprise Project Portfolio Management (EPPM) tool. Even though often used as a standalone tool, Primavera P6 is a database initially designed for the enterprise's needs where data can be shared between projects. In order to achieve this Primavera P6 uses the concept of "Global" data objects and "Project" (or embedded) data objects.
In this blog I will show you why using a project calendar over a global calendar for your project activities schedule is beneficial to maintain control over your project(s).
Calendars
A calendar is used to define working and non-working periods. Weekends, holidays and other project specific non-working days can be defined. It is even possible to go into further detail and define working hours per day. Users can create for each work pattern a fitting calendar.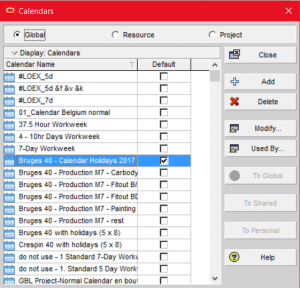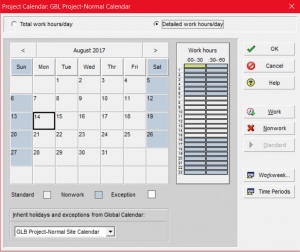 Calendars can be assigned to each resource and activity to determine time constraints in a uniform way. Primavera P6 uses your calendar assignments for scheduling, levelling resources and tracking activities.
Three types of calendars are supported:
Global Calendar: can be assigned to a project, activities and resources
Project Calendar: can be assigned to a specific project and or its activities
Resource Calendar: only for resources (will not be discussed further in this blog)
Global Calendars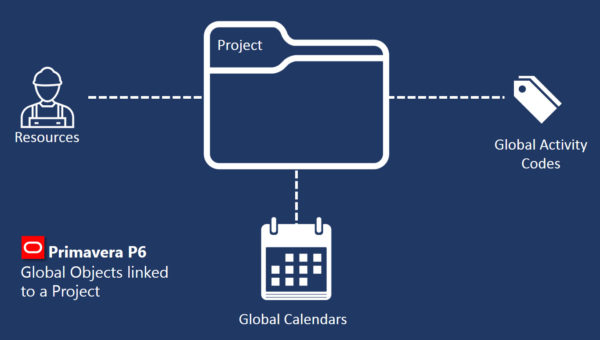 Advantages
Global calendars exist outside of all projects.
When an associated project is deleted the Global Calendar will not be deleted.
Global calendars can be left out during an import process. This is often forgotten though.
When a user changes a Global Calendar these changes are applied to all projects using that Global Calendar. This can be useful when using a calendar on activities which are influenced by weather. For example, we could define a global calendar for concrete works on multiple projects.
Disadvantages
The most important disadvantage why not to use global calendars is what happens when importing a project (XER file):

project specific data is added to the database (embedded data)
at the same time, all linked global data in the file, is also inserted into existing global data in the receiving database.
after importing numerous projects this will lead to a polluted Global Calendar register. To remain organized a user must purge the register systematically and use a standard naming convention for his calendars.

When a user changes a Global Calendar for a specific project, these changes are applied to all project using that Global Calendar. This often leads to unintentional changes for other projects using this calendar.
Back-ups (copies) of your projects functioning can change when linked to a global calendar which is altered, so in fact no longer functions as back-ups. Nuance: dates will only change when you recalculate (F9) a project.
After importing several projects with Global Calendars the library will get various names for the same calendars, which will look and feel messy for the user. For example, a basic 7-day calendar can be labeled in various ways:

7 x 8
7x 8
7 day calendar
Seven day calendar
When exporting a project that uses Global Calendars, they also wind up in the Global Calendars list of the recipient who imports the project. After several imports this can lead to a cluttered library.
When analyzing the quality of a planning in Primavera often one of the first steps is to make an inventory of the used Calendars. Some applied Global Calendars may be overlooked when they are hidden in a cluttered library of Global Calendars.
Importing a project with a Global Calendar that has an identical name to an existing calendar in your database will give an unexpected result. Primavera P6 will not overwrite the existing calendar when importing which can give different outcomes of the same schedule for both users.
Project Calendars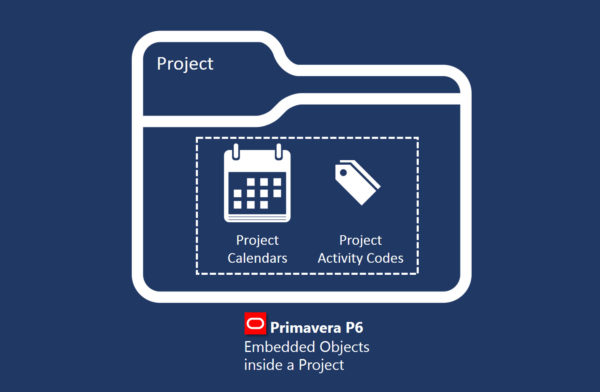 If the project calendar is linked to the global calendar, then any change made in the global calendar will be reflected in the project calendar but not vice versa.
Conclusion
Global calendars are a powerful asset in a multiple project environment if implementation is done flawlessly by all users. (Un)fortunately we are only human and we often make mistakes.
The impact of all these errors in time, when managing global data in an enterprise, will ultimately result in a polluted database and unintentional mistakes on a project level.
That is why in many multi-national enterprises the importing of Primavera P6 projects into their central P6 database is under strict control by an administrator.
Working with project calendars takes away these risks.
A global calendar is a powerful tool for businesses who manage projects where weather downtime plays a major part. Such a calendar is often used based upon experience from previous projects and weather statistics. Examples are off-shore projects, outdoor activities in construction, etc. A small error in these calendars can mean losses in hundred thousands.
This blog is originally placed on Primaned.be op 18 May.