Collaboration through integration of Primavera P6 EPPM and Oracle Primavera Cloud (OPC / Prime)
Niels Ligtvoet discusses the possibilities of integrating Primavera P6 EPPM and Oracle Primavera Cloud (OPC/Prime).
KEY TAKEAWAYS:
Limiting the information seen/processed by different roles raises the quality level of information.
The real power of project controls lies in the integration of data.
Combining best-in-class tools, out-of-the-box or tailor-made, provides a clear project insight on your projects and portfolio.
To get this started, I want to introduce a name change in the Oracle Engineering and Construction suite. Keep this in mind to prevent a confusing read. Since June 2019 formerly known Oracle Prime will be named Oracle Primavera Cloud, not to be confused with Oracle Primavera P6 EPPM Cloud Services. In my personal opinion, the name-change fits in Oracle's strategy to integrate Primavera P6 EPPM in the fully integrated project controls tool that is Oracle Primavera Cloud.
Primavera Cloud – P6 EPPM integration services
Did you know that Oracle Primavera Cloud integrates with Primavera P6 EPPM (Cloud Services)? Primavera Cloud and Primavera P6 EPPM Cloud are connected through a built-in Primavera Gateway connection that operates through the Integration app of Primavera Cloud. A set of predefined integration services are available that map the fields from Primavera Cloud to P6 and the other way around. Furthermore, you can customize the mapping of both databases and tailor them as needed.
By default, there's a master-slave relationship between both tools, where a tool of preference is predefined by Oracle per knowledge area or app. Here's a small overview of the main integration jobs and master-slave roles each tool has. The knowledge areas from top to bottom are Schedule, Resources, Lean and Risk.
Figure 1: Brief overview of the master-slave relationship between P6 and Primavera Cloud.
For in-depth information on this, contact us.
Even though some of the integrated fields can be edited within one tool and passed on to the other, Oracle predefined the integration jobs to limit this. A practical example: Primavera P6 EPPM is the scheduling tool of preference. Changes to relationships, dates, durations, etc. can be made within Primavera Cloud, but will not be pushed back by a predefined integration service job. Same for resource assignments and vice versa for risk and lean tasks.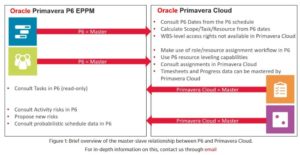 Zooming in on LEAN integration
Read this blog post if you're struggling to apply LEAN scheduling principles to your projects planned in Primavera P6 using the Critical Path Method (CPM).
If you've ever worked in a Primavera P6 EPPM Cloud (or EPPM 19.0 & higher), you might have noticed the Tasks tab in the details pane of your activities view. Here you can only read the task data as they are committed, completed, assigned to a company in Prime. The Task Status Indicator is also available as a column in Primavera P6 EPPM, which indicates if tasks were committed outside of the Activity duration or if all tasks have been completed but the activity hasn't and vice versa.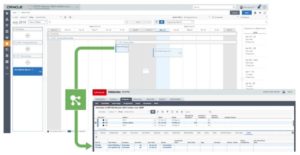 Advantages
If we limit the amount of information a stakeholder has to process during their day-to-day job, the quality of work will be higher. When a set of actors and roles is clearly defined within your project organization, a big advantage in the integration of these best-in-class project controls tools can be found.
Primavera P6 EPPM strengths and actors:
Schedulers will keep on creating/adapting schedules and scenarios within their trusted P6 environment. Resource managers maintain the workflow for resource assignments to the project. Project resources/Site managers themselves can use the Team Member Activity Statusing capabilities along with the Timesheets module to progress the activities they are responsible for, along with actual realized quantities. Earned value analysis remains in P6 EPPM and the results are pushed to Primavera Cloud for consultation.
Primavera Cloud (Prime) strengths and actors:
Project cost controlers use the cost and funds app from Primavera Cloud to analyze budgets versus actuals. All project stakeholders will be able to propose project risks to the risk manager, who will model risk on the schedule for quantitative risk analysis. Project resources can use the LEAN app of Primavera Cloud to plan their own work and make commitments to their project managers. Project managers will consult all their project data through Primavera Cloud in the different apps, where all data is integrated and comprehensive dashboards can be made through the Dashboard App. Portfolio managers analyze budget needs from Primavera Cloud and will assign budgets to the project through the project selection capabilities of Primavera Cloud.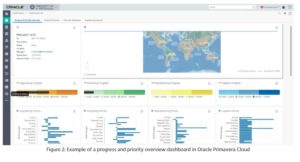 Conclusion
At Primaned Belgium we are always searching for the best fit at our clients. Sometimes this involves combining the best of both worlds. The Oracle Primavera Suite offers a range of out-of-the-box solutions to reach this fit, along with some expert tweaking, we make this work. Carefully choosing the master-slave relationship between different tools enables the users to focus on their own domain of expertise. This lowers information overflow and raises level of usefulness of information. By combining these different sources of information and integrating all of them, all stakeholders can maintain their helicopter view on their projects.