Recognizing the levels of change during project execution
Each large construction project brings new challenges. One of the challenges from a project controls perspective is to manage changes. The objective of this blog is to create awareness of the different levels of change during project execution and gives a brief answer on the following question: Which type of changes are we dealing with?
Practitioners will agree that large construction projects are complex and contain unique endeavours and special tasks that haven't been done before. Consequently, it is very difficult or even impossible at the initial planning stage to know precisely which activities have to be carried out to complete the project, and what their cost and duration parameters are [1]. The success of a construction project, to a large extent, is determined by the ability of the project team to manage the inevitable changes during the project. Many people and theories have a different understanding when it comes to change. However, a change is here defined as an act or process through which something becomes different. It refers to a deviation to a certain aspect of a project, such as design and specification, work schedule, cost, and so on. A good understanding of the causes and effects of change is essential for effective change management (figure 1) [2].
Classification of changes in five levels
We identify five levels of change in our model (figure 2). Level one is the highest level of change which leads to an update of the business case. For example, the type of contract or the subject of the contract (a bridge is changed into a tunnel). Therefore, the project governance should be changed because the business case is no longer valid. A level two change is a variation order. The client or the contractor has a change request which is no longer aligned with the scope of the contract. For example, a request to multiply the number of highway exits and lanes. Another example of a change request is taking another project interface into account which wasn't mentioned before. A level three change is a baseline update of the current project scope. For example, a delay of an interface project which is a mandatory to start the project. A key concept in level three changes is the management reserve which will be explained in one of the next posts. A level four change is to take proactive and corrective actions in the current plan which doesn't change the baseline. For example, taking measures against bad weather.  At level five we see deviations occur at a daily base which is the lowest level to identify a possible event. This is part of the daily monitoring and control process which isn't automatically a subject to change.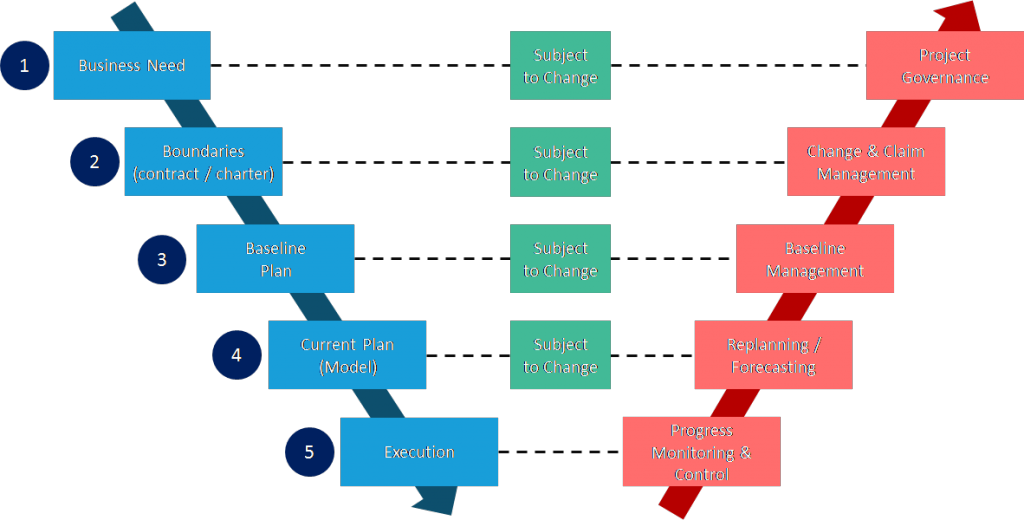 Fig. 2: Levels of change
Conclusion / check out your own plan
Identification of change is the first step of change management to determine which steps / people / escalations are needed. A clear and transparent change management process is crucial to prevent claims or to have a strong case if it comes to a claim process. Interested in how Project Controls can help you? Follow our new module Change Control & Claim Analysis at Primaned Academy or contact us.
References:
[1] Dvir, D. & Lechler, T. (2004). Plans are nothing, changing plans is everything: the impact of changes on project success. Research Policy 33 (2004), 1–15. DOI: 10.1016/j.respol.2003.04.001.
[2] Sun, M. & Meng, X. (2009). Taxonomy for change causes and effects in construction projects. International Journal of Project Management 27 (2009), 560–572. DOI: 10.1016/j.ijproman.2008.10.005.